Freddo parties in Norway without the wife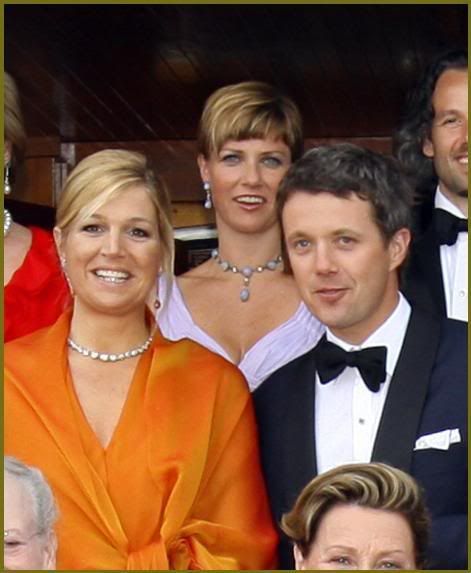 On the sternside deck of the Norwegian royal yacht, docked off the coast at Stavanger, the royal guests assemble for a photoshoot preceding the on-board dinner celebrating the 70th birthday of Queen Sonja.
Maxima
: I'm so happy to be here in Norway! I just love travelling to new places, and of course, I always get a kick out of dressing up! It's too bad Alexander couldn't come, but the girls will be happy to have him around while Mama and Oma Beatrix are visiting our friends! It's so good to engage with people, I find it thrilling! Yay!
Fred
: Psst, Max. Hey, Max, psst. Pull my finger, huh?
Maxima
:
Que
!? Freddles, darls, you are such a funny little man.
Fred
: Oooooh, c'mon. It'll be cool. Sportive!
Maxima
: You say the strangest things, hon.
Fred
: I know. "Sportive" is one of the things I say when I'm nervous. I also like to put my hand down my shorts and scratch my bum like I did to
announce my candidacy for the IOC.
It's a beta male thing. Or maybe a theta male thing. Mary actually taught me how to
sneak a scratch
.
Maxima
: Yes, and you kept saying "sportive" when
you and Crown Princess Mary were visiting the EEU.
Fred
: She
gave me a serve
over that. I couldn't do a thing right!
Maxima
: I think it's a cute thing to say. Perhaps Crown Princess Mary misunderstood what you were saying. She doesn't understand Danish, remember. She probably thought you were asking after where you could plant some spawn around the traps after the official duties were over. Any town where there are pollies en masse will have professionals of another kind in abundance!!!
Queen Sonja
: I'm so happy that so many of my friends could be here for my birthday. I DO NOT look 70! Is there a better present than that?!
Maxima
: You like to
touch bums,
don't you? But you know, sweets, my husband never scratched his bum when he was preparing to be the Dutch IOC delegate. In fact, royals usually observe those surrounding them scratching their bums
at
them. You are such a democrat, Freddles, scratching your nether parts along with the hoi polloi. I knew it was your wife who is getting to you on some level. Where is Crown Princess Mary anyway? We were all told to expect her...
Queen Margrethe
: (shooting Maxima a look backwards to whisper) Maxima dear, I am SO HAPPY that dear Frederik was able to join the family for tonight's dinner dance and swapped places with Mary. I know it is a terrible faux pas to say you'll be there, then not showing up, but I just could not allow her to try to compete with our foreign relatives. She actually thinks she can one-up them. I cannot be embarrassed by her anymore. Darling Sonja understands completely and was perfectly complicit with, even enthusiastic about, our plan.
Fred
: To be frank, we expected a hissy fit and then for Mary to do her damndest to get here - like the Mary's Kur Comeback a couple of years ago (feels like eons!). But she was very suspiciously demure about it. Way out of character. Course she prolly went again to a
cold beach with Christian
for the usual Martyr Mary shots; that's what she does when she's trying to get back at me. Shades of Diana at the Taj Mahal.
Queen Margrethe
: As if public sympathy's going to save her!
Fred
: Then Mor got word that Mary's bridesmaid has been slagging her off. We're already burned out on bagels from all the entertaining we've done for our geneticist, then Amber Petty brings em up again. Mary has been staying very scarce indeed for days now! I thought
Amber's drunken diatribe
was a hoot. If it weren't for Mary, Mor would have seen the funny side. God I wish I'd married her insead of the dour scotch bap that I have to service from time to time at home. But somehow Mor refuses to see the funny side of Mary any more. We're all over it.
Maxima
: You're over your wife? We all saw that coming! Look, I can understand your attitude, but dude, c'mon, the woman just popped out
a little cutie.
Why so harsh?
Fred
: She's so self-conscious, never relaxes for a second. She even tucks her thumbs in at home, in the shower, in her sleep! Frightened of showing the
man-hands.
It's like living with a cross between Posh Spice, something Bram Stoker would have dreamed up if he were holed up in Argyllshire in a particularly cold winter, and a troll supervising a bridge in the fjords. You girls don't understand. It's like Mme Tussaud has the real Mary and I have
the waxwork.
Mor reckons it's a strain of Aspergers that our geneticist missed when he was poking around the genes for us. But don't start me - that's a sore topic! She only becomes animated when I talk about Vickan. Course, she hates that you are a glamazon and have like a really happy relationship with your mother-in-law. She wants to know what drugs you use to stay "up" and feign happiness.
Ari Behn thought bubble
: Everyone says that Fred and I look so much alike, but let's be honest, I am SO much better looking. How could anyone turn away from my long, salt-n-pepper locks in favour of this weak-jawed buffoon?
Märtha Louise thought bubble
: I have so much to be happy about! My parents are wonderful, my husband is emotionally available and I have two adorable girls. I'm a princess without being bound to royal duties. Isn't my hair cute and sassy, trendy without being too young? And I resisted all efforts to marry cousin Fred! I love my life!
Fred
: Mary is spewing that her colouring won't let her blond it up. She actually has dark skin, didja know? The white pasty look is Mary's "pale wraith" ploy for a sympathy vote.
Maxima
: We figured it was a version of Fergie's hemerrhoid cream. Well, there is nothing, nada, fake about me! OK, my hair!
Arriba
! You got me. Hahaha!
Fred
: I'm actually losing my grip. I can't believe anyone is natural any more. This is natural? The "real you"? Wow, Mary would never let the real her out. My mother would kick her back down under for one thing without a clause for any post-nuptial benefits! For another,
we'd all turn to stone
.
Maxima
: Oh, she lets her inner scrag out when her guard is down, alright! My husband is still having nightmares over those
hairy, sweaty armpits
she was pointing at him all night in Sweden last year. And I wish
she'd better control that zizi!
Fred
: It's a kind of heady mix of patchouli, pheromones and poison, with a whiff of the mould from a black synthetic velvet frock stored at the bottom of a Bondi group-house wardrobe. And touches of Eastern Suburbs whore.
Bewitching!
(sighs with a nostalgic look, then comes back to his senses).
Maxima
: I don't think my husband has your vulnerabilities, Freddles. What on Earth are you going to do?
Fred
: Well, Mor has made a start. We gave Mary a twee
Wal-Mart dyed agate pendant set in silver
as her birthing present. She had her eye on some of Mormor Ingrid's best and brightest, but Mor thinks it would be cruel not to start letting her down. Some kind blogger emailed Mor a picture of Mary's uglier sister with the state jewels photoshopped onto her ears. That gave her heartburn, but she took the warning! Also, Mor has insisted there's a nanny with each child 24 hours a day so they learn Danish and don't learn any Boganson lingo. Subtle disengagement.
Maxima
: Hardcore! I had no idea. Well, actually, I did. But I didn't want to say anything, we figured you'd come to your senses all in good time. She rode your family hard, Chuck!
Fred
: I'm still wringing wet. I refuse to be hung out to dry. I'll be in charge from here on in!
Maxima
: Nice start with your choice of godmor. How hilarious that the press assumed dear Miss Johnston is a friend of your wife's!
Fred
: We cased around for another suitable godparent from the Boganson side of the family - nada. Beatrice and all the Wagga crowd said NO WAY, after the way she treated them. I'm seeing the Nadine Johnston engagement as finally looking up from the bottom of the pit I've found myself in.
Maxima
: It will be all onward and upward from here. Don't worry, our kind have had to get rid of strays and hangers-on for centuries, from time to time. But this one sure pulled a beauty on you. It's 'cause you're dumb, Fred!
Fred
: See how much I deserve to have my finger pulled now?
Maxima
: Love ya, darls. Now, join the party! She'll be in the past tense soon.
Fred
: And thanks to Yehudi, very few genes will linger. A toast to the brilliant women a generation before me! Winks at his mum.
Margrethe winks back.