No Parking Zone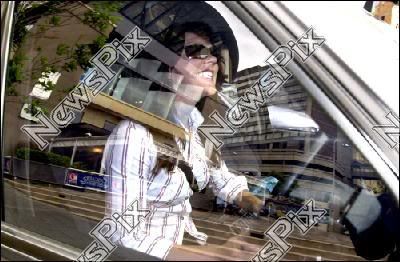 A long forgotten article written by Vanda Carson, a Sydney-based reporter who has followed Mary since Our Gal was discovered late 2001. It is very interesting to take note of what was being said long before the engagement and the royal spin put on her back story. Many thanks to truthteller for the great find!
A regal Dane in the making
By Vanda Carson
September 26, 2003
Mary Donaldson had just parked Prince Frederik's Land Rover in a narrow cobbled street of Copenhagen. She locked her door and walked away when a middle-aged man approached her. "Det er ikke tilladt [You cannot park there]," he said.
Donaldson looked perplexed, meekly replying in English, "Sorry, I don't understand."
As soon as news spread around the city of just 1.7 million people last year that she could not make out this simple sentence – plus she had the gall to break the rules in what is an obedient and orderly city – the Danish media erupted. They were offended that Crown Prince Frederik's Australian girlfriend had not yet bothered to learn their language, or to fit in with an organised culture where ticket machines abound (in post offices, grocery stores and all official buildings).
But aside from this aberration, Danes have been fed a steady diet of stories about what a wonderful princess she would make. Since February last year, when the palace officially confirmed that the prince was dating the Tasmanian-born law-graduate, the tabloid newspaper BT, and more conservative broadsheets such as Jyllands Posten and Berlingske Tidende, have written front-page stories about "beautiful, talented Mary".
But she has a lot to live up to with Wednesday's confirmation of a royal wedding next year. The prince's mother, Queen Margrethe, is an immensely popular monarch. She represents an ideal to the Danish people; she is tall, formidable even, speaks five languages, studied at the Sorbonne, the London School of Economics and Cambridge University. She is a talented and accomplished artist, having painted backdrops and designed costumes for the Danish Royal Ballet and illustrated Tolkien's The Lord of the Rings books.
The other stiff competition comes from Princess Alexandra, the wife of Frederik's younger brother Joachim. The princess, who married in 1995, is of British-Austrian-Chinese heritage and is from Hong Kong. She learned the language in record time and was able to converse in Danish at the engagement announcement. She gave up her successful career as an economist to be a full-time royal and has impressed with her poise at official functions and as a charity patron. And she has produced two male heirs.
Donaldson has had to overcome a number of hurdles to win acceptance from the Danes. But her introduction has been carefully stage-managed by the palace officials, specifically the Crown Prince's spokesman Per Thornit and Lord Chamberlain Soren Haslund Christensen. The image-makers have only allowed her to reveal small pieces of herself, testing the waters over two years to prevent her from plunging into the role too quickly.
She has effectively been gagged by the palace, not having said more than three words (in Danish) in public. Just last month, commenting on a designer collection at a fashion show, she told Danish Television, "Det var fantastisk [That was fantastic]," in a sophisticated Danish lilt.
The string-pullers have a cosy and convenient relationship with the editors of Denmark's top-selling newspapers, telling them "publish a nice story and we will give you more". There has been a tremendous public response to the romance and generally people are very enthusiastic at the prospect of an Australian queen. Danes say this is because Denmark, with a population of 5 million, is like a village and people prefer the prince to marry a foreigner, or someone far removed from the European aristocracy. (NOTE BY VC: well, they sure scored on that count.)
For Donaldson, a life awaits of promoting Denmark to the world. She will open exhibitions, go to fashion shows, become a charity patron and tag along with the prince at official functions. Oh, and produce heirs. Gone is the Australian ex-boyfriend who worked on a fishing trawler and girlfriend Beatrice Tarnawski, who was dumped after she blabbed to New Idea, to be replaced with new-found friend, famous Danish actor Ellen Hillingso.
Some of the "princess training" began before Donaldson even left Sydney. She enrolled in a deportment course in the eastern suburbs where she learned how to walk, talk and pose for the cameras. Then in December 2001, she quit her real estate job at Belle Property, and left for Britain, reportedly to live with her father, mathematics professor John Donaldson, in Oxford, where he teaches after recently retiring from the University of Tasmania. She appears, however, to have lived in Paris most of the time to be close to the prince. She also taught "business English".
From the beginning, the discreet manner in which the affair was conducted (it was a secret from September 2000 until November 2001) led royal observers to think she may be "the one". Such was the demand for a glimpse of the prince's girl that Danish magazine Se og Hor announced a DKr10,000 ($2265) bounty for a photograph of her on Danish soil. It was to no avail, but months later paparazzi snapped the first shot of the pair, in the prince's car arriving at the royal palace.
Next she attended a christening and a string of weddings. Gone were the sports clothes she favoured in Sydney, replaced instead by stylish dresses, elegantly styled hair and a more regal posture.
In November last year, Donaldson and the prince visited Sydney to attend another wedding where Donaldson was bridesmaid. Then they went to the Melbourne Cup. Danes were so sure the pair would marry that stories began to appear asking: Who is holding back? Is it the prince or the Queen who has cold feet?
Hungry for every detail of her life, the Danish press went to Tasmania to speak to her school teachers and friends. What emerged was a picture of an ambitious, sporty, headstrong girl – the youngest daughter of a professor from the suburb of Sandy Bay, whose mother had died six years before. She attended Taroona High School to Year 10, then Hobart College and the University of Tasmania, where she graduated with a commerce-law degree. Less favourable stories in the tabloid press have suggested she may have anorexia or bulimia because of dramatic weight loss.
Donaldson received close attention from the Danish diplomatic security services when the prince was staying at her Bondi Junction terrace in Sydney early in 2001. The secret service had to ensure the house was "secure" before the prince – who receives an annual tax-free stipend of Dkr4.3 million – could stay. One story has Donaldson's bemused flatmate coming downstairs for breakfast to find the prince, looking decidedly un-regal in boxer shorts, eating a bowl of cereal.
It is still not clear exactly when she moved to Denmark. She lived at the royal palace for at least a month in early 2002 before she was set up in a $7000-a-month port-side apartment just minutes away. She has no previous experience in information technology, but Frederik got her a job at a Danish software company, a subsidiary of Microsoft. She spent less than a month in total at work. The rest of the time she was photographed shopping in the ritziest boutiques, laden with bags of clothes, or jetting off to exotic locations (Brazil, the Swiss Alps, France to name a few).
Come April or May next year, she will be walking down the aisle at Holmen's Kirke, a 17th-century Danish Royal Navy chapel where Queen Margrethe was married in 1967. It is small and holds fewer than a thousand people. Alas, she won't be wearing a Lisa Ho or Collette Dinnigan gown. Protocol demands her dress will be designed by a Dane – most likely Julie Fagerholt, a friend and and up-and-coming figure in the fashion world.
Donaldson's siblings and, in fact, Tasmania, have been low-key about the news. When The Australian called her stepmother Susan Moody in Oxford, she said the prince had been "very good at comforting Mary". "She has been very lonely in Denmark and he has been very supportive of her. They are very much in love."
Donaldson's sister Jane Stephens was equally relaxed. When she answered the phone in Hobart, she was cooking dinner for her three children. "The family is very thrilled and excited and very happy that this has occurred," she said.
"Do you think Mary will change?" she was asked. "Not her inner self, no. I don't think her true personality will change, I don't see her changing at all."