Thanks, suckers!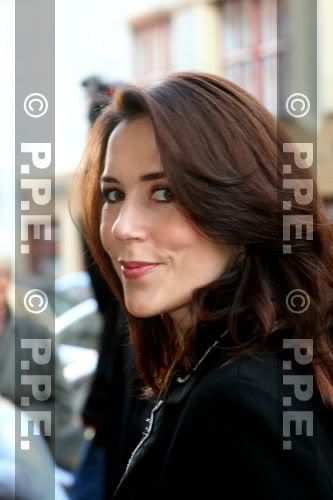 Thanks to blog archivist truthteller for finding this article that appeared in The Australian detailing the cost of the 2005 Looker Me! Tour to the Australian taxpayer. Soon the annual report will be released from last fiscal year which will give us a comparison to the visits last year of both the Swedish majesties and Australia's rightful Head of State, Queen E.
Taxpayer picks up Princess Mary's drinks tab
By Michael McKinnon and Annabelle McDonald
June 06, 2005
TAXPAYERS spent more than $130,000 so political leaders could sip champagne with the Crown Princess of Denmark, Mary Donaldson, and to ensure her first official visit home to Australia went off without a hitch.
The hefty bill was part of a total $300,000 of federal government funds shelled out when Mary and Crown Prince Frederik visited four cities in March. (NOTE : THIS IS FEDERAL GOVT ONLY) A further $177,000 was spent by the Tasmanian Government, while the NSW and Victorian governments and the Governor-General Michael Jeffery were believed to have laid out six-figure sums, bringing
the total cost of the 23-day tour to an estimated
$750,000
.
Two media consultants worked to minimise embarrassing hiccups for up to four months ahead of the tour at a cost to taxpayers of more than $73,000. And in an attempt to impress the royal couple and diplomats who accompanied them, the federal Government threw a lavish $62,000 reception in Parliament House's Great Hall on March 9. The costs were contained in documents provided to The Australian following a Freedom of Information request to the Department of Prime Minister and Cabinet.
The couple also attended taxpayer-funded state receptions in NSW, Victoria and Tasmania and the nation's capital at an unknown cost to residents of those states. They were accompanied by a 14-member entourage, but taxpayers picked up the tab only for the royal couple and Frederik's private secretary, Per Thornit.
The trio racked up $102,000 on four interstate flights in an RAAF jet and a five-car cavalcade with police escorts. The Government spent another $45,000 on five-star hotel suites and $12,000 hiring the VIP lounge at Sydney airport, buying Danish flags and badges, and printing commemorative programs. The Danish taxpayers are believed to have paid for the accommodation of the remaining entourage.