A Contemplative Moment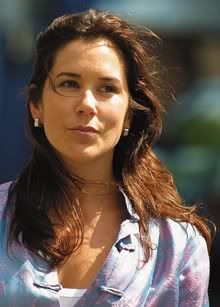 The scene: Mary, sitting alone on a balcony overlooking Wineglass Bay. Just nearby, a little state-of-the-art DVD recorder is set up. The lens is pointing at Mary. Inside, the rest of the Boganson family is sitting around on the floor watching the Australian Idol final; Erin and Kate disagree about it being Damien or Jess who deserves the title. The nanny is putting Christian to bed. All is calm, all is bright.
Frederik is gazing around the room and thinks, "Tralalalala, all those Bogansons are so beautiful! And I'm so witty! Everything looks shiny! I want to dance! Darling... darling... your extra ankle bone's gone. Oh, it's the table leg."
Jane: "What on earth is she doing?"
John Stuart: "While you were doing your compulsory - and not helpful I might add - skin routine just then, she got the shits with us because we wouldn't watch any more replays of her crap, and the kids want to watch Idol. Plus all Fred wanted was to play Monopoly and Sailor Scrabble. He's trying to recreate the Nanoq. 'Cept I can't swear hard enough in Danish. And I can't match his repertoire of international sex acts. What the hell is a buccinator chokehold, anyway?"
Mary
(to camera, pouts. Pulls lip up exposing receding gums. Lifts side wings of wig. Looks glum)
: "I hate my family. I so hate them. Christ, three days! Three freaking days! Managed to shop day 1 and day 2. Now what!? Fred armed himself with
rollmops
. Fuck their inconsiderate crap! I told them: rollmops. Beer. Whiskey. Bit of porn - you know: fat brunettes, Romanian lady wrestlers, nannies, Mental Health Nurses, old biddies with teeth stained brown, mermaids (the real thing i.e. walruses). Why can't they geddit? Noooooo, they go and get him a frigging porn mag full of blondes. THAT'S all I need. Once he's off dreaming of hair like brass wool next thing he'll be across Bass Strait and confiding in frigging Amber. I had to agree for them to let him out for half an hour. Don't the realise how dangerous that can be? It's like releasing a mental patient! Hmmm - this is a cute angle.
(Licks lips)
Anyway, it's harder than I expected. You don't realise how rarefied you become. My skin only touches white Irish linen at home - Egyptian cotton scratches my skin. I told Jane to get fine sheets, and she didn't. Or maybe she's using them herself. Anyway, I didn't realise how much peasants SMELL. I mean, all I smell at home is flowers, scent, orchids and Fred doesn't have any testosterone so he just smells of ice - of various kinds. It's quite clinical actually - the lab smell lingers. Oh, and smoked cod. That's OK, I strike that when I have to go near Daisy. So this is a real hardship post, but all in all a good cause! Seen to be CLOSE-KNIT. Think it's working. Got a quick lift to Melbourne yesterday, in, out, in disguise: without gold shoes, gold sunnies, gold bangles and mica polish all over my skin NO ONE SEES ME. It's a bit of a worry, no one recognises me. Two hours shopping up and down Collins Street - it is tough exercise keeping the jowls tucked up under the chin - and not ONE furtive admiring glance. I even went to Fifteen for lunch and got mistaken for one of the street kids. Shit, bad angle.
(adjusts camera to shoot from above)
Where was I? Yeah. The stinking peasants. And where the hell did those freckles come from? Freckled niece? That's so bog Irish. Better be Craig's side of the family. I swear if this next baby looks Irish I'll get it swapped. I don't trust that Yehudi - Kate Fischer genes indeed! I've actually been wondering whether Fred and I should do the Africa adoption thing; it's better on one's figure.
Mmmmmm, this contemplation is very good for me. I'm being very spiritual. That's good, and VERY in at the moment. Oh, that reminds me - THE PLAN. On hold for now, dammit. Calm, down, Mary. Do I really want to share the power with those half-lives? They play - and enjoy! - BOGGLE. At least it anaesthetises Frederik and I get to look at him with his eyes closed. He looks like a cross between a gosling and a Martian. He's just kinda
off
. That's the most frustrating thing for a perfectionist like I am. If only I could just reach in past those pores and do a bit of adult genetic manipulation. In between planning for our fun on the mainland, Hamish told me about
epigenetics
the other day. I could do that with enough whiskey probably and Per wouldn't blink at a large order of the stuff. I need to soften Fred's bones or something, get him stretched. Photoshopping the pix used to be enough, but trouble with this sort of gig is, you just want more.
Here I am, supposed to be on holiday and I manufacture my
own footage
. Why should
I
have to do that? Why don't my
family
look after me? Do I really want to take over Denmark with THIS crew of losers? Why can't I do what Madonna's doing and have a nice light black baby? My stock would shoot through the roof! 'Course, they'd say it was Snoop Dogg's. Still! I don't want a pudding brat affecting my posture. I mean, the stoop is bad enough, but he's twisting me sideways in addition. It only takes five minutes a week, obviously, because that's all the time I spend holding him. My spine's already out of kilter what with the
chin thrust
for jowl removal being compensated at my business end by the
baboon posture
. What's the worst bit of my life at the moment?
(Assumes tragic expression)
Nuh. Bone structure won't take tragic. Have to stick with smile through bittersweet tears. Must remind Fred he'd damn well better not try some tragic backstory on me. He has a ruthless streak. Talk about the worm turning! He's looking suspiciously happy, little bastard. I misjudged that. He was supposed to recover just enough to become bearable, not actually become
good
. That makes me FURIOUS, and he knows it.
(Bites lip)
OK, 24 hours till I hit the shops again.
(Breathes in deeply, exhales slowly)
And I HATE goddamn Max Markson. As soon as the Australian Government pulled the plug on me after an audience survey (WHAT audience is what I say!) he has the hide to tell me they're 18 months out from an election and if they pay my way again they'll be kicked out of office. So, that's John Howard I have to hate, too - hate again, aksherly, since I already hate him for loving those pommie royals more than
me
, er,
us
. And despite it being so easy, hating people makes my skin bad, and then it's another trip to London for a paste of MixMastered lamb foetuses. Fool me. I could have done the Princess Anne thing - learnt to actually ride a horse, worn scarves around my chin, relaxed in gumboots. Fool me.
(Smooths scowl from forehead)
I really am a martyr to the cause. What commitment! Looking good! Joan of Arc was tall and wore lots of metal too, just like me. They're of my ilk - the Saint Joans...Marie Thérèse...Diane de Poitiers. Other great beauties have had hard moments: then a smudge of oil paint (they didn't have Photoshop) and history lies for them forever. That's my destiny. Eternal beauty...an eternal flame of my spirit, over the eventual tomb of the Misunderstood Princess. WWDD...What Would Diana Do...
(Sighs deeply as befitting a woman with the angst of two entire populaces upon her.)
Jane: "Meeeeeeeerrrrrrrryyyyyyyyyy! C'mon now, they're about to announce the winner!! Doncha wanna know who it is?"
Mary, to no one in particular: "Well, it's not me, my friend, it's sure as hell not ME."